Here's Instagram, a picture-sharing app that picture lovers would definitely appreciate. This app managed to get 100,000 users in just 1 week (from techcrunch)!
It's basically a service that allows you to share pictures with your friends, immediately after taking the pictures. I guess it's easier to think that it's a photo-version of Twitter or tumblr. What's unique and nice is that you can edit the photos you want to share with your friends. There are about 11 kinds of toy-camera effects you can add on a picture, before posting it online. The format of the picture is 612 X 612. It's also interesting that the pictures taken with this app are square-shaped. Of course, you can post the pictures you took on Twitter at the same time. This app is great, isn't it? I really think it's great!
So, let's move on to the review!
After launching the app, sign up to create a new account! It'll take some time, but enter your email address and your name. The telephone number is only optional, so I guess you can just skip it.
If you want to check the nice pictures your friends took using this app, check if any of your Facebook or Twitter friends are using this app! If you found them, send a friend request!
Did it work? Now, go ahead and take a picture!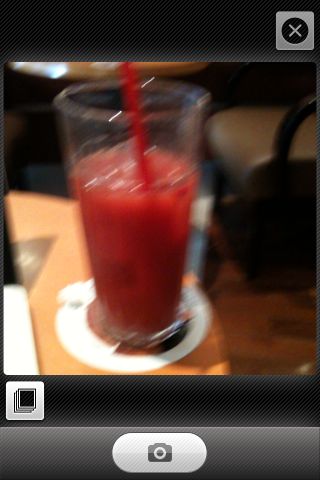 When you launch the camera, you'll see a screen like the one on the left. Take a picture that'll fit in the square frame! (If you tap the button on the bottom left, the screen will change to the photo-selection page where you can choose a picture from your photo album)
When you finished with the picture, you can immediately add an effect! The effects are so nice! There are 11 kinds of effects available, and they are all great.
This is another effect. Nice…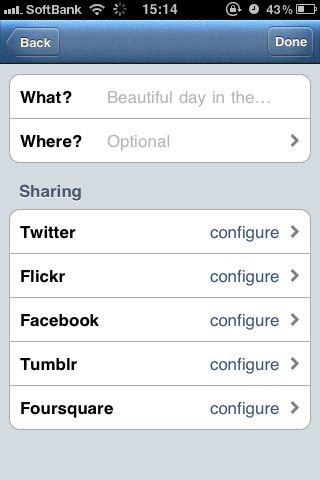 I'll go for "Lord Kelvin" for now. After choosing an effect, enter what you took, and where you took the picture. If you want to link with Twitter, Flickr and Facebook, tap configure.
The "Where?" section will search your location automatically using the GPS. So choose your location, enter "What?", and tap "Done" on the top right!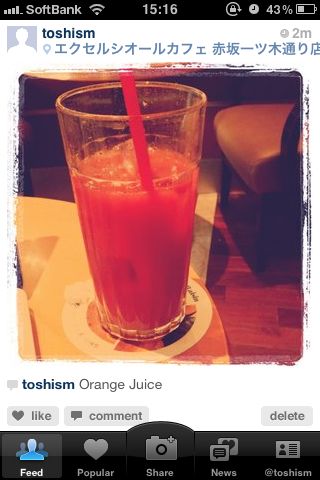 The picture I took has been successfully posted! Wow, it's kinda nice. The effects are nice, right?
You can add comments on pictures, and also "like" them.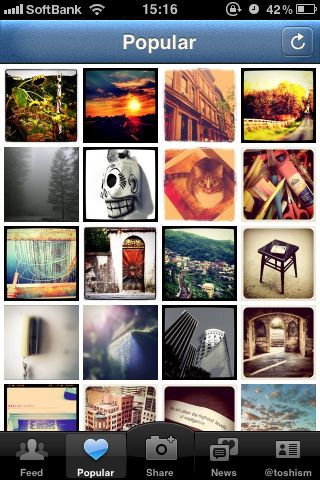 Let's tap "Popular" from the tab on the bottom. Then, you can search for pictures that are "liked" a lot, or pictures with lots of comments.
Wow, this person's picture has so many likes!!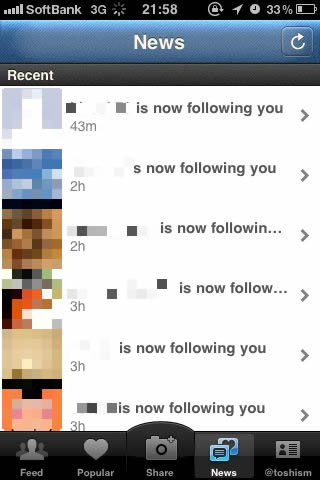 When you tap "News" from the tab on the bottom, you can see the people who started following you recently, in a list. So follow them back! That's how you start to enjoy this!
When you select "@toshism" from the tab on the bottom, you can see the profile settings. Let's start by uploading about 100 pictures first!
Seller: instagr.am
Price: Free
Photography
Version at this writing: 1.0.0
[source: instagram]
Tags:
effect
,
free
,
instagram
,
iPhone Apps
,
iPod touch
,
photo
,
picture
,
share
,
SNS
category:
free
,
Photography
, date: 2010.12.4 7:00 am , by: toshism
« [iPad] Pool Bar: if you want to play pool, this is the right app! It's real and impressive.
[iPad] Notably: They all say it's an iPad version of Moleskine. A nice notebook with a texture. »
Search
For example: Twitter,Game,todo,camera etc
Weekly PV Ranking
Comments