Celebrities often disguise when they walk out in the streets. And here's an app where you can experience that, Fauxto! Add a hat, glasses, beard, mask and a necklace on a picture! It's like disguising, it's fun! Shouldn't our celebrity colleague Murai disguise when he goes out?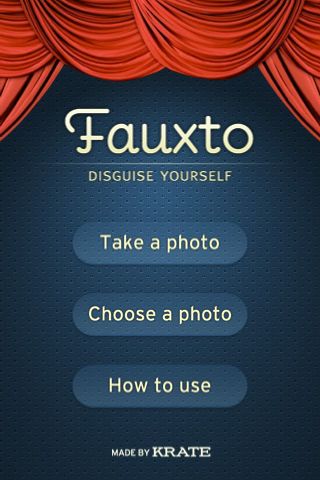 So, here's the main menu. Take a photo on the spot or choose an existing photo.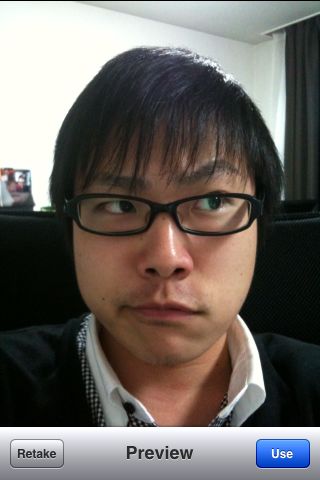 So, take a picture and start playing! Unfortunately there's no one at the office now, so I'll just take a picture of myself… It's kinda sad…
But I took a good one! Pinch in/out to adjust the size according to the guide. When it's good, tap OK.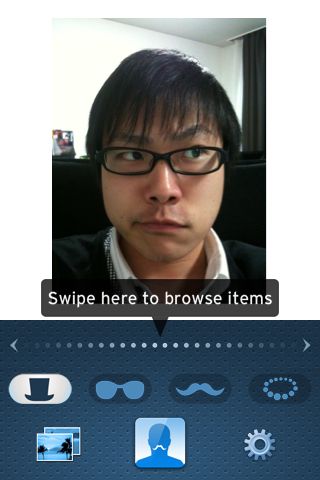 Now, let's add stuff like hats and beards. The accessories will appear by sliding the bottom of the picture to the sides.
Let's start with a hat! There are cool ones and colorful afro style too… The hat you chose can be adjusted by dragging it to where you want to place it.
I'll choose a not-so-disguisable hat… Let's move on to the glasses. Tap the glasses button. Slide the bottom of the picture to the sides to find one you like.
After the glasses, choose a beard! There's an old-school Chinese style beard, a red nose like captain Buggy (it's not a beard though), etc…
And last, add accessories. You can drink a coke, or smoke a pipe like a man…
I think I'm done! (Yeah, I know I don't have much style….) So tap the button in the bottom center to save. Btw, a picture frame will be added to the picture.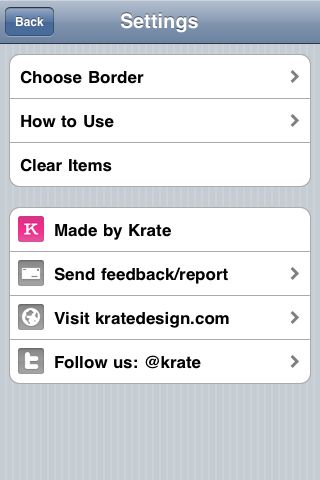 Access to the settings to see the picture you saved, from the button on the right side of the save button. You can choose the picture frame from "Choose Border".
Now, let's disguise others! First, I'll use a picture of our colleague, Murai. I made him disguise like the Mexican Zoro.
Next I'll use our good-looking colleague, kazuend. I'll add a cool hat and a candy. He looks like he's flirting! (The blue left eye from a punch is a proof of a playboy)
Photo apps are now so common to iPhone apps!! Have fun disguising people!
[source: Fauxto]
Tags:
beard
,
celebrity
,
disguising
,
effect
,
Fauxto
,
iPhone Apps
,
iPod touch
,
photo
,
picture
category:
iPhone Apps
,
Photography
, date: 2011.2.2 11:00 am , by: toshism
« Perfect Photo: The UI is so easy to use! 16 photo editing/adjusting tools available.
[iPad, iPhone] TwisTouch: A finger twisting multi-touch puzzle game. It's simple but fun! (Free!) »
Search
For example: Twitter,Game,todo,camera etc
Weekly PV Ranking
Comments