Wivi Band 15-in-1 is a brass instrument app where you blow air onto the iPhone microphone to play. This app in particular is in high quality and is one of the best of this kind of apps.
I'd like you to take a look at the demo video first. The person playing is Jordan Rudess, the keyboardist of the progressive metal band, "Dream Theater".
Wivi is a name of a physical modeling synthesis (a sound that simulates the instrument itself and the form, material and size of the space it plays on a computer), developed by a Swedish company called Wallander Instruments. So in this app, there are 15 types of real brass instrument sounds realized by Wivi. The 15 types include the trumpet, trombone, French horn, tuba, tenor saxophone, alto saxophone, flute, alto flute, piccolo, clarinet, bass clarinet, oboe, English horn, bassoon and contrabassoon. There are instruments that everybody knows, and also minor ones such as the English horn and contrabassoon.
When you play, use the normal keyboard interface. But since the screen is small, you need to hold 3 buttons with your left hand and combine them to switch octaves. Check the help screen for details.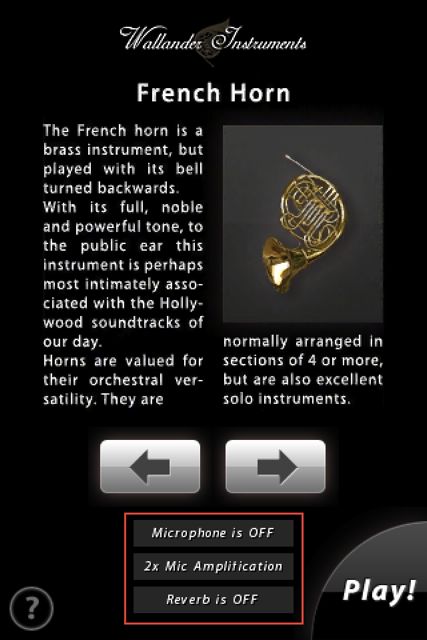 You'll be able to play strongly or weakly, according to the strength of breath your blow onto the iPhone mic. When you tap "Microphone is off" on the bottom, you can play it just with the keys without blowing air to the mic (but then you won't be able to distinguish the strength of the sound). Also, when you tap "2x Mic Amplification", the sensitivity of the microphone will increase double, so it'll be easier to play (but it'll be more difficult to differentiate the strength of a sound). The default is set so that all sound will have reverberation, but you can also switch it off by tapping "reverb is off").
You need to get used to switching octaves with the keys, but the quality of the sound is really high and the response is fantastic. If you think this app is one of the best iPhone instrument apps, then the price is totally worth it.
There's also a free app where you can play the trumpet only, Wivi Band邃「 Free!
[source: Wivi Band 15-in-1]
« [iPad] My first Tangrams HD: This block-piling puzzle is really fun to play with! (Says my son)
[iPad] Vincent van Gogh – Classic Painters Gallery: An art app that has more than 400 paintings! »
Search
For example: Twitter,Game,todo,camera etc
Weekly PV Ranking
Comments