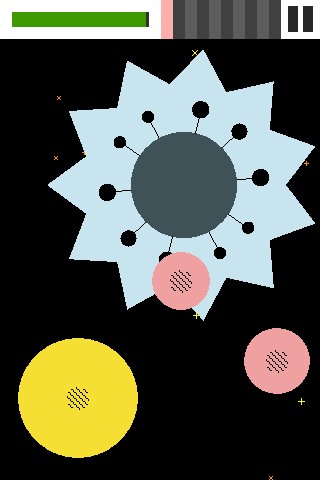 Eliss is a "tear-and-stick together" kind of puzzle game that requires super concentration.
Touch Arcade commented this game is the perfect game for iPhone.
Why shouldn't AppBank try this game then? So I started playing…and wow. I realized 2 hours had passed without noticing.
All iPhone gamers should try this… and I assume that you`ll all be blown away after playing for an hour.
Check out this video of Eliss. You won't regret buying this even just for the sound and movements.
From the main screen: Isn't that cute?
The first screen,
And the game screen.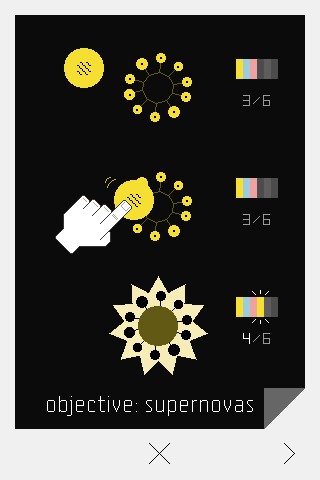 Coming back to the Help button, I'll tell you what this game is about: you put on this round yellow planet on to this thing that looks like it has tentacles called Squeesar and blow them up.
Each explosion is counted and you clear a stage by the minimum explosions required for each stage.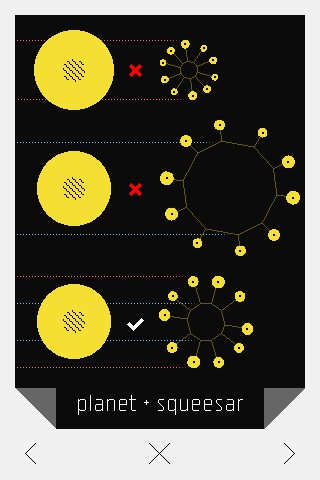 You're out once the planet is bigger than outer circle of the Squeesar or if it's smaller than the inner circle of the Squeesar,
Only once you get to put a middle size one you can make a Supernova.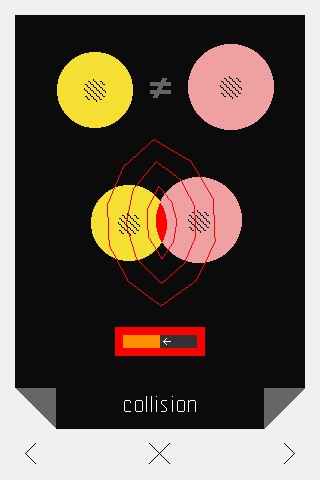 When two planets in different colors clash, the planets get smaller and your life credit decreases.
Apparently it's made so you can also touch 10 fingers at a time.
After a Supernova you'll see triangle stardusts flying around. Your life credits recovers when you touch them.
Let's go back to the game. You just stick the same colors, put it into the Squeesar and make it explode.
Once exploded, collect stardusts according your life status.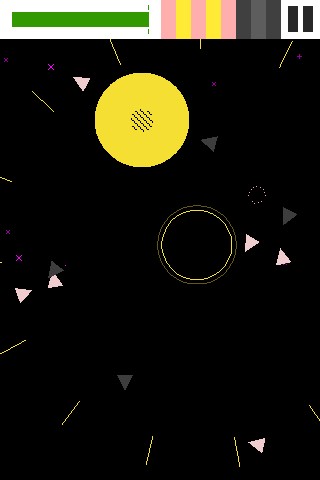 Once exploded, collect stardusts according your life status.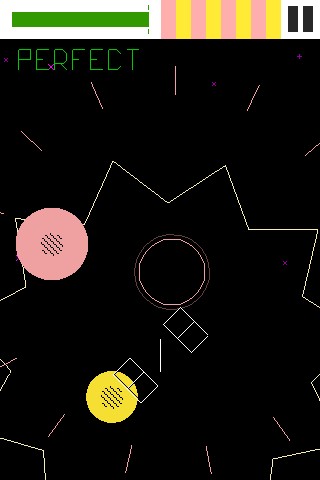 Stage clear! …well, at least this stage.
Now on to the next stage. Wait a sec, it's not exploding the same way anymore…
Ahh ok you need to split them…You can't use the same strategy because every stage has a different kind of challenge
Hey watch where you're going.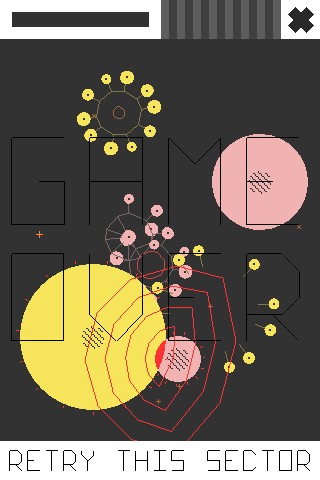 Damn! Game over.
Succeeded on the second try!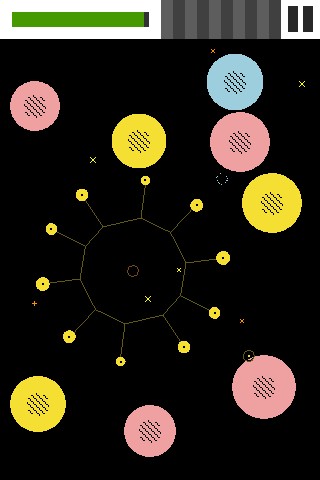 Another color is added on the 3rd stage. Just one change makes it even harder.
From this point it gets so hard you'll need two fingers of each hand. The iPhone also starts to lean to the side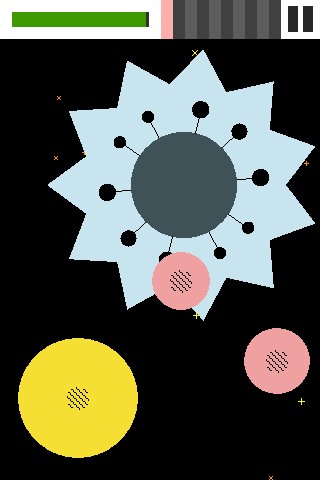 Yes! I made one explode.
Every stage has a different sound to it. This is what's so special about this game.
Another thing I want to mention is this white-black hole circle. It sucks up all the planets from the screen and leads to total destruction.
This is the really hard part. I had to hold the planets with my finger so it wouldn't get sucked.
Game Over!
I played 20 times before I cleared this stage. I failed so many times.
But you know, even though you fail so many times it doesn't make you stop playing. It makes you think, "next time I can make it!".
In another stage, the sun and also tiny planets appears
Also, there were super-energy-recovering items and Matrix-like slow-motion-making items.
This puzzle game- from the idea to the story and production, feels like it came from a different world.
Eliss is so hard!
I failed 20 times before passing to the next stage, but still there is something in it that makes it impossible to stop and yet it doesn't make you nervous at all.
The high-opinion of "iPhone's perfect puzzle game" given by Blake from TouchArcade is quite right. I wish that everyone making iPhone games would buy this game.
There aren't many games that I can recommend to everybody. But I can definitely recommend this one to anybody who felt something from the video above. For those who did, I'm sure you'll all be surprised from this game experience.
[source: Eliss]
Tags:
app
,
art
,
beautiful
,
Eliss
,
game
,
iPhone Apps
,
iPod touch
,
puzzle
category:
Games
,
iPhone Apps
, date: 2010.1.27 8:25 pm , by: toshism
« iGuide – iPhone Tips & Tricks: It's an iPhone manual app. Check the basic control to security control!
Camera Zoom 2: Zoom in with your iPhone camera and shoot a beautiful picture! »
Search
For example: Twitter,Game,todo,camera etc
Weekly PV Ranking
Comments