Transform yourself into a scary zombie with this app, ZombieBooth!
Take a new picture or pick an existing one and this app will transform it into a really scary zombie picture. After you transform into a zombie, tap the screen or drag it to play with it! Share your zombie pics on Twitter too!
Sync with PhotoSpeak and enjoy more!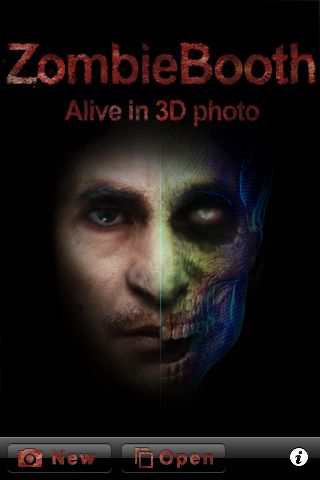 Turn on the app.
Tap "New" and choose to take a new picture or to pick a picture from the photo album.
I took this picture on the plane to Hawaii to buy an iPad. Zoom in and tap select.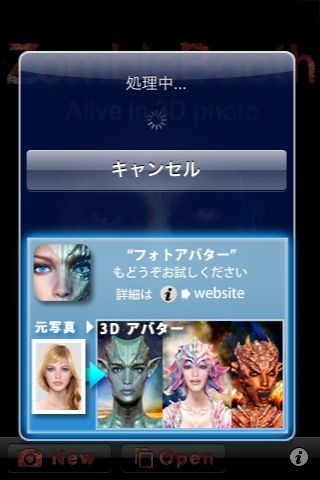 It's processing…
Btw, I recommend you also PhotoAvatar.
Tada! I'm a zombie!lol I'm not scary enough…Now tap and drag the screen and play with your picture.
Let's try it with a different picture. I think this one is scarier? You can save your zombie pics, send it by email, and post them on Twitter!
Enter your Twitter account and tap "Post" to post. The zombie picture you've made can be checked after tapping "Open" on the main menu.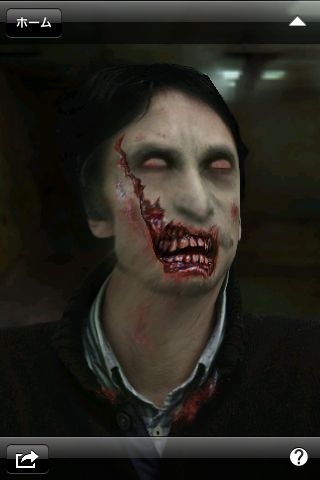 This picture is pre-registered as a sample. Scary!
It's a fun app to play with your friends!
Try it out if you liked it!
Don't show them to little kids, though!
Seller: MP Apps
Price:$0.99
Entertainment
Version:1.0
[source: ZombieBooth]
« Alice Clock: A 3D Alice's iPhone clock app. Cute or spooky, you tell me!
Moonga: A trading card game with a 3G battle! (Free) »
Search
For example: Twitter,Game,todo,camera etc
Weekly PV Ranking
Comments